On May 9, Afghan officials said the number of people killed from a bombing outside a school in the Afghan capital, Kabul, had risen to 68.
Explosions on the evening of May 8 rocked the Dasht-e-Barchi neighborhood, home to a large Shi'ite community from the Hazara ethnic minority that was once the target of the terrorist group. ISIS in the past.
A car bomb was detonated in front of Sayed Al-Shuhada School and two more bombs exploded as the students ran out in panic.
Most of the victims killed were female students, officials said. Some families are still looking for a hospital for their child.
"The first explosion was so strong that it happened so close to the children that some [intact] could not be found," said an Afghan official, who asked to remain anonymous.
On May 9, civilians and police gathered books and briefcases scattered on the blood-stained street that was once filled with shoppers ahead of the Eid al-Fitr celebration next week.
Bodies are still being collected from the morgue as the first burial is underway in the west of the city. Some families are still searching for missing relatives on May 9, they gather outside the hospital to read the names on the walls and inspect the morgue.
Mohammed Reza Ali, who is helping the families of the victims at a private hospital, said: "All night, we took their bodies to a graveyard and prayed for those injured in the attack. "
Security was enhanced across Kabul following the attack, but authorities said they would not be able to provide security protections for all schools, mosques and other public places.
President Ashraf Ghani on May 8 blamed the Taliban terrorists, but a spokesman for this group denied involvement and condemned any attacks on Afghan civilians.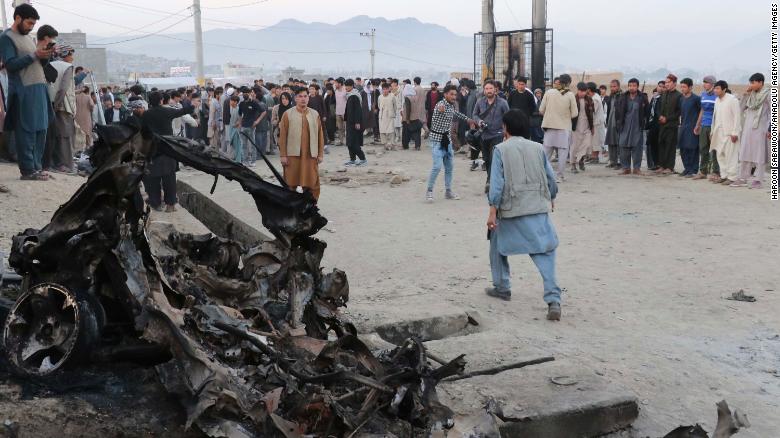 UN Secretary-General Antonio Guterres also condemned the attack and expressed his deepest sympathy for the families of the victims as well as the government and people of Afghanistan.