Two professional dancers took to the stage to perform a dance that would shake the nation. This is Jason Colacino and Katie Boyle showcasing what would go down as one of the best ever performances in dance sports to this day. Watch their performance in the video below.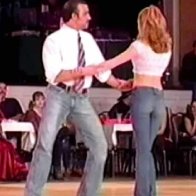 Jason Colacino and Katie Boyle were long-time dance partners. There are many performances of the two online, but the video above is one of their most popular. Their perfect routine to Honky Tonk Women, by Travis Tritt quickly became a favourite throughout the country music circles.
Jason Colacino was born on August 20, 1977, and unfortunately passed away on August 9th, 2009 at just 31 years old. Jason suffered pneumonia and cardiac arrest and later it was discovered he had an enlarged heart. However, his incredible skill lives on through many exceptional videos, many of which include Katie Boyle.
"Bad Salsa" dancing couple make their way through the hearts of America's Got Talent judges
Wedding surprise dance of the groom and the bride