The 11-year-old girl had a successful escape that was praised by the police despite having to face an armed attacker.
On May 18, the Florida State Police of the US arrested a child abductor who acted boldly in broad daylight, making many parents worried. According to security cameras, that morning there was an 11-year-old girl sitting alone waiting for a school bus to pick up in the West Pensacola area.
It was 7 am and there were people passing by on the street, a white car was still moving around the area where the girl sat a few times and then suddenly stopped by the side of the road. The kidnapper got out of the car and took a knife and ran straight towards the target. He threatened the victim with a knife and easily lifted her up, intending to put her in the car to escape.
The girl was waiting for the bus when someone attacked with a knife and tried to kidnap her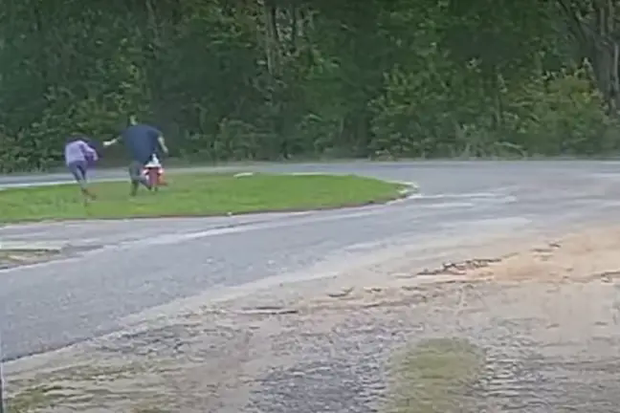 The attack only lasted a few seconds because the victim quickly escaped
When being picked up by the kidnapper, the girl still struggled, struggled and shouted loudly to alert passersby. At the same time, the girl also ran immediately while this guy was busy looking around to see if anyone noticed. After that, the suspect was forced to leave the scene without committing the crime because of fear.
Mr. Chip Simmons – Sheriff of Escambia County praised the girl's brave and agile fight against the criminal as a "warrior". The girl only had scratches on her skin after the incident and fortunately, her psychology was not affected.
"If the victim didn't struggle and fight back, I can't imagine how bad the consequences could be. She was at risk of being kidnapped, abused or even trafficked, killed, we can't predict," Mr Simmons said.
Not only that, right after escaping from danger, the girl quickly informed the adult about the incident so that the adult could call the police. The local police received the news and quickly mobilized a force of 50 officers to search. The kidnapper was arrested after eight hours of searching a day. During that time, this guy still had time to paint the car in another color.
[Alyssa bonail is an 11 year old giel who ]
The suspect, 30-year-old Jared Paul Stanga, has been charged with attempted child abduction, assault and battery. Police said the man had a criminal record related to child sexual assault.
After the initial investigation, the Escambia district police said that through the security camera on the street and the testimony of the girl, this guy showed signs of following the victim for the previous 2 weeks. It is likely that he has hatched and planned a methodical arrest.