Since owning the White House from Wednesday afternoon (January 20, US time), Mr. Joe Biden has shown that he is lying, lying and will continue to lie.
Here are Mr. Joe Biden's lies until January 23:
1. Mr. Biden confessed that the pandemic will get worse despite the previous pledge to 'shut down the virus'
Joe Biden spent the entire 2020 campaign to promote a plan of action that will "shut down" the Chinese virus (the new corona virus that causes COVID-19). But only on his third day as the White House owner, he had to make a confession that the pandemic virus would get worse.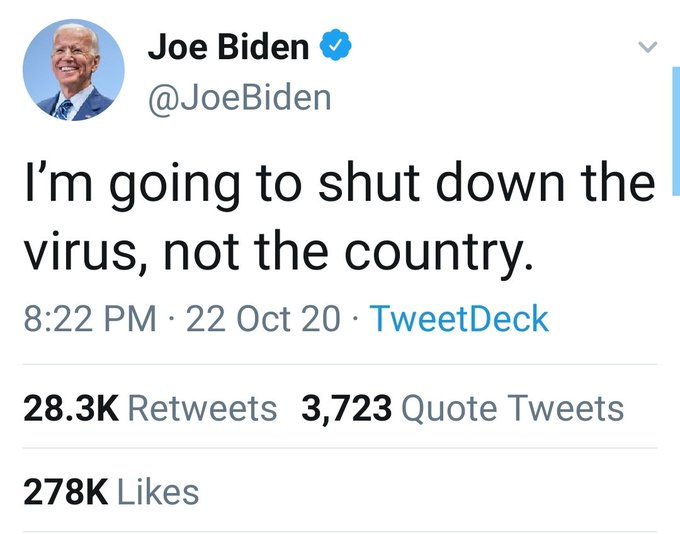 President Biden urges Congress to pass more COVID relief:

"There's nothing we can do to change the trajectory of the pandemic in the next several months." pic.twitter.com/BmogfKwwSg

— The Recount (@therecount) January 22, 2021
In October 2020, Mr Biden firmly said, "We have been going through this pandemic for eight months, and Donald Trump has yet to have a plan to control this virus. I have".
And on his third day in office, he admitted: "There is nothing we can do to change the trajectory of the pandemic in the coming months."
2.Mr Biden accused Mr. Trump's federal government of failing to act urgently to tackle the pandemic
Joe Biden said President Donald Trump's federal government has failed to "take the urgent action" necessary to tackle the corona virus pandemic.
"Over the past year or so, we cannot count on the federal government to take urgent, centralized and coordinated action as needed, and we have seen the huge loss of this failure," Biden said of the Trump administration.
But Republican Senator John Cornyn (Texas) pointed out that last year the Trump administration and bipartisan parties in Congress passed numerous virus bailouts totaling more than $ 4 trillion and most recently the plan. bailout was approved last month.
The Trump administration with Operation Warp Speed ​​has helped companies complete two COVID-19 vaccines in just 9 months. Currently, about 1 million Americans receive the COVID vaccine every day.
3. Team Biden told CNN that Mr. Trump has no plans to distribute the vaccine
Several sources within the Biden administration have told CNN that the Trump administration is not quitting any vaccine distribution plans.
"There is nothing we can work on. We'll have to set everything up from scratch, "a source in the Biden administration reportedly told CNN's MJ Lee.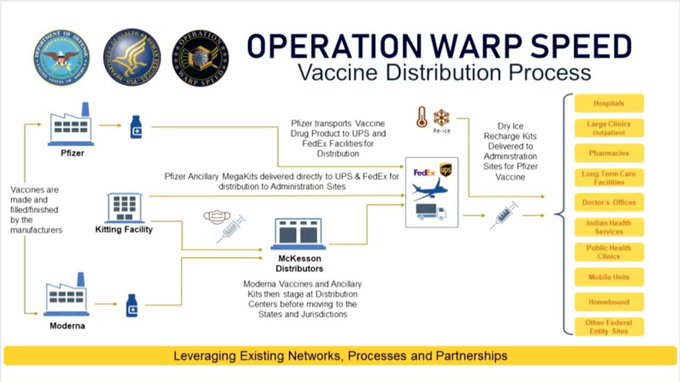 However, the Biden team statement is in contradiction with Dr. Anthony Fauci's statement.
"We certainly do not start from scratch, because there is action taking place on the distribution," Mr. Fauci told reporters.
4. Mr. Biden and his family violated the ordinance to wear a mask that he just signed
Just hours after signing a decree mandating to wear masks at federal sites, Mr. Biden and his family were found not to do so when they attended an event at the Lincoln Memorial. White House press secretary Jen Psaki argues that "it's been a special day" and that the country has more to worry about than this.
Ms. Psaki also did not wear a mask when answering reporters at the White House.
Jen Psaki is asked why Joe Biden and members of his family weren't wearing masks at the Lincoln Memorial last night after signing the mask mandate on federal lands:

"He was celebrating a historic day in our country… We have bigger things to worry about." pic.twitter.com/wLjD1V0k1f

— Daily Caller (@DailyCaller) January 21, 2021
Regarding Biden's own violation of the decree, Breitbart News journalist John Nolte commented: "Mr. Cheating Joe Biden has only been President for a few days but has betrayed the military. and demonstrating that he does not believe in wearing a mask is essential ".
5. Mr. Biden falsely claims that 'all media' smear the vaccine plan as "impossible"
Mr. Biden angrily defended his administration's goal of giving COVID vaccines to 100 million Americans within his first 100 days in office after an interview questioned whether that goal would be. there is too humility.
Instead of justifying his plan, Mr. Biden angrily replied to reporters: "When I announced [that plan], you all said it was impossible. Let's go on. Give me a break, boy. "
Biden, asked if 100 million vaccines within 100 days is too low of a goal, snaps: "When I announced it you all said it wasn't possible. Gimme a break. C'mon man." pic.twitter.com/O7n7jBOjvn

— Tom Elliott (@tomselliott) January 21, 2021
In fact, at the time Mr. Biden came up with the vaccination plan, very few articles in 'mainstream' media publications had doubts about his plan.
The MSBNC then quoted Dr. Fauci as saying: "President-elect Biden has made a very clear goal of at least 100 million doses of vaccine in the first 100 days. Specifically, 1 million doses a day. We can do that. This is what can be done ".
6. Mr. Biden pledged to be the united president, but scorned the Nazi senators
Mr. Biden pledged to the American people: "To all those who do not support us, let me say this: Hear me out as we move forward. Please rate me and my heart ".
Mr. Biden has always affirmed himself as the president of the entire United States, representing both his supporters and disapproves. He called for this time to heal and unite the nation after years of division.
However, about 2 weeks ago, Mr. Biden openly murdered two Nazi Republicans Josh Hawley and Ted Cruz because they bravely stood up to oppose the Electoral College votes of some states. are believed to have extensive election fraud and irregularities.
Senator Hawley's office on January 8 released a statement calling Mr. Biden's statements regarding Mr. Hawley and Mr. Cruz "improper behavior, immaturity and outrage".
Senator Ted Cruz on 8/1 also criticized Joe Biden's statement as "evil partisan words" and only made the country more divided.
7. Mr. Biden has always committed to protecting American soldiers, but in fact the National Guard has to sleep in the garage after defending his Inauguration
When running for office, Mr. Biden declared: "I will never send US troops anywhere in the world without the equipment and protection they need."
But when he was elected, the National Guard was treated badly. There are images published widely in the media showing thousands of soldiers sleeping in garages after completing his duties to protect Mr. Biden's Inauguration.
According to Politico, thousands of soldiers were "forced to leave the Parliament House area" on Thursday (January 21), where they have been guarding for weeks. Thousands of people have been taken into the garage of the nearby Thurgood Marshall Justice Center for the night.
"Yesterday [January 20 – Inauguration], dozens of Senators and Congressmen came down where we stood guard to take pictures, shake hands and thank us for our service," said a Guard. with Politico. "For the next 24 hours, they no longer needed to use us and pushed us into the corner of a garage. We feel extremely betrayed. "
"There is no internet connection, only a power outlet and a bathroom with two spaces for 5,000 troops," he added. Nighttime temperatures in Washington are only around 4 degrees Celsius.
8. Mr. Biden always promised not to ban oil drilling, but on the first day of inauguration, he signed a decree to cancel the Keystone XL pipeline project
During the second presidential debate between President Trump and Mr. Biden in October 2020, President Trump condemned Biden: "You said you would ban domestic oil and gas development (called 'fracking' – for short "Fracturing") ".
But Mr. Biden denied it completely, then challenged President Trump to testify. Immediately after the debate ended, President Trump posted a video on his personal page containing Biden's exact statement. Biden lied!
However, the media has remained completely silent on this lie from Biden. But just on the day of his inauguration, Biden's lie came to light, he signed an executive order, declaring a complete ban on the construction of the Keystone XL pipeline, and at the same time, ending all new lease operations. of oil and gas on the federal. land.