Myanmar's politicians, health and media said police opened fire on the protesters on Sunday (February 28), the bloodiest day of the anti-coup protest. Military, at least 18 people were killed and more than 30 injured.
The United Nations Office for Human Rights (UN) said: "Police and the military have used force to inflict damage and to inflict less damage on peaceful protesters. According to reliable information received by the UN Human Rights Office, this force has killed at least 18 people and injured more than 30. "
Since February 1, when the army took power and arrested Ms. Aung San Suu Kyi and other leaders, until now, Myanmar has repeatedly protested against the military coup.
The coup, which resulted in the halt of planned steps towards democracy after nearly 50 years of military rule, drew hundreds of thousands of people to the streets, as well as condemned by Western countries.
According to Reuters, after launching stun grenades, tear gas and shot into the air to disperse crowds of protesters. Police began to open fire on protesters in various places in Yangon, Myanmar's largest city, and the army was also sent to reinforce the police.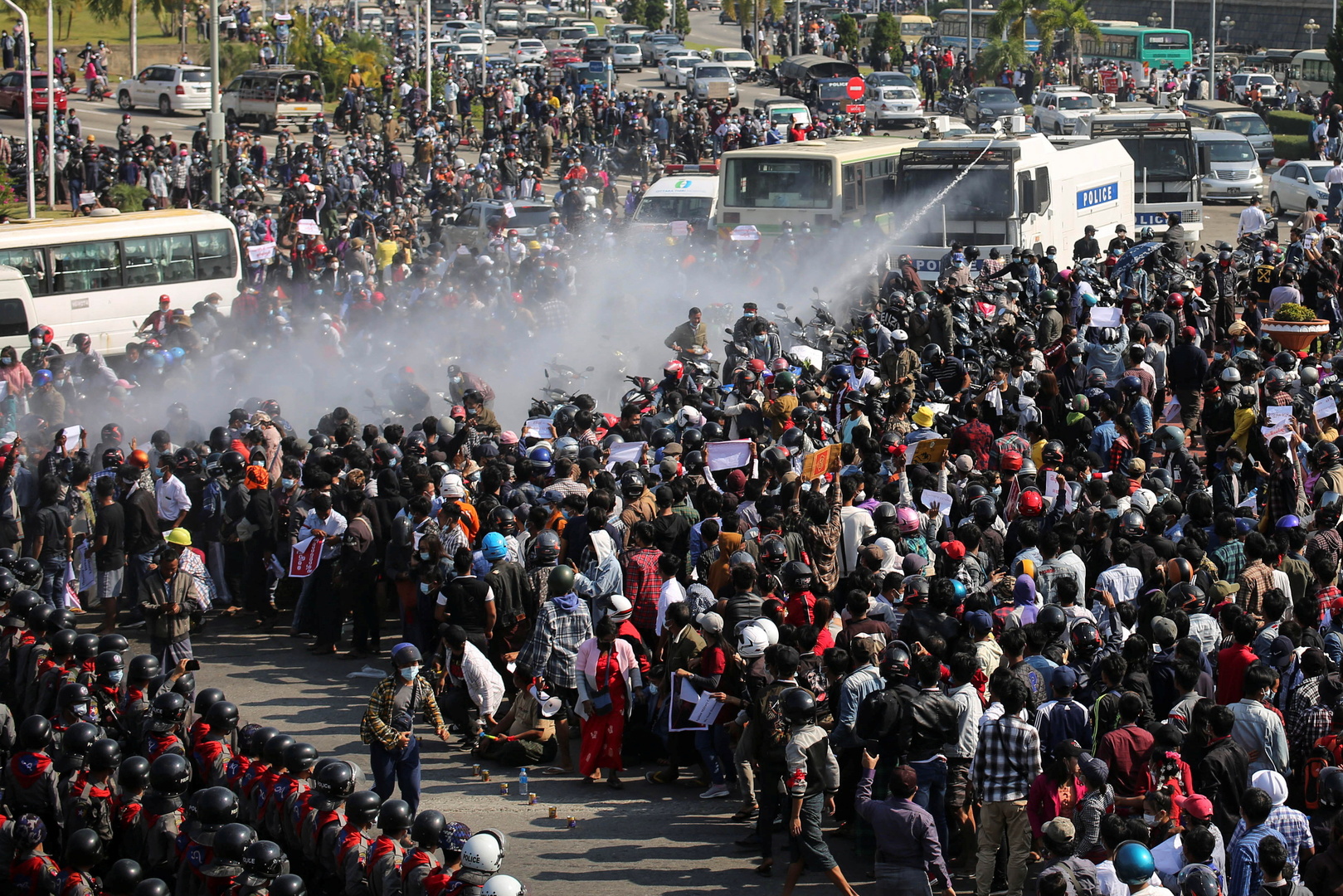 Media images showed that some of the injured were dragged away by protesters, leaving bloody stains on the pavement. A man died after being taken to the hospital with a bullet shot in the chest, said a doctor who requested anonymity.
When the police fired a shock bomb to drive away a group of teachers protesting in Yangon, a teacher died. Her daughter and a colleague said she was suspected of dying from a heart attack.
Politician Kyaw Min Htike told Reuters that in the southern city of Dawei, police opened fire, killing three people and injuring many others.
Myanmar media reported that two people were killed during a protest in Mandalay, the country's second largest city.
Police are also dissolving protests in other towns, including Lashio in the northeast and Myeik in the south, local residents and media said.
The army attacked Myanmar protesters on February 28, 2021. (Photo: Cut from the
Video: Soldiers gunned down a few protesters in Yangon crackdown on Sunday pic.twitter.com/uwifk4ty1p

— Myanmar Now (@Myanmar_Now_Eng) February 28, 2021
Protesters: Never surrender
Although last week, military leader Min Aung Hlaing said authorities were using minimal force to deal with the protests.
However, to date, at least 10 protesters have been killed.
A policeman is dead, the military said.
According to Reuters, the crackdown appears to demonstrate the military's determination to impose its power in the face of widespread resistance, not just on the streets but more broadly in civilian institutions, city ​​government, justice, education, health and media.
Phil Robertson, Asia Deputy Director of Human Rights Watch Asia, commented: "The use of lethal force in many cities is clearly escalating … is outrageous and unreasonable. Acceptable."
In the city of Yangon, on Sunday afternoon, hundreds of protesters still refused to leave. Many people set up barriers, while others chanted slogans and sang protest songs.
"If they attack us, we will defend. We will never kneel in front of the army, "said Nyan Win Shein, who participated in a protest in Yangon.
Police also threw shock bombs outside a medical school in Yangon, causing doctors and students wearing white coats to flee. A group known as the Whitecoat Medical Alliance says more than 50 medical staff have been arrested.
State broadcaster MRTV of Myanmar said that when police launched a nationwide crackdown on Saturday, more than 470 people were arrested. It is not clear how many people were detained on Sunday.
VIDEO: Protesters carry away one of their wounded at Hledan in Yangon on Sunday morning. The wounded protester was shot in his chest area by what is believed to live ammunition. #WhatsHappeningInMyanmar #2021Uprising pic.twitter.com/4vOhPixk1x

— Myanmar Now (@Myanmar_Now_Eng) February 28, 2021
Sowing fear Youth activist Esther Ze Naw said people were fighting their fear of living under military rule, Reuters reported. "It is clear that they (the military) are trying to instill fear in us by making us run away." "We cannot accept that," she said.
One day after the military announced that the Myanmar Ambassador to the UN was dismissed for calling for action from the UN to protest against the military's rule, the State Department announced that diplomats at several ambassadors Another shop is being summoned.
Mr. Kyaw Moe Tun, Myanmar Ambassador to the United Nations, told Reuters: "I decided to do my best to fight [the coup]."
Although Western countries condemned the Myanmar military coup and some have imposed limited sanctions, the Myanmar military government has consistently denied diplomatic pressure.
The Myanmar military claims that the National League for Democracy (NLD) led by Aung San Suu Kyi won the election last November in fact through fraud. This is the military's reason to launch the coup. The Election Commission and Western governments have denied the allegations.
After the coup arose, the Myanmar army declared a state of emergency and the army would control the country for a year. They promised to hold new elections, but did not set a date.
Soldiers and Polives violent crackdown on peaceful protestors at Dawei , Myanmar #WhatsHappeningInMyanmar #Feb28Coup pic.twitter.com/7Y99XAlJSV

— ZIN TUN (@ZINTUN1) February 28, 2021
An unarmed citizen,outnumbered by 4 policemen,brutally beaten with batons and taken to custody for just peacefully protesting.#WhatsHappeningInMyanmar #Feb28Coup #PoliceBrutality pic.twitter.com/a5V4VfPEFF

— Nar Dan (@NarDan2198) February 28, 2021